Authorized Sachtler Tripod Head Repairs & Service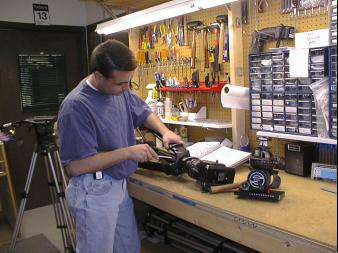 Expert Service
Knowledgable Staff with Experience Servicing Sachtler Tripod Fluid Heads & Sticks since 1996.
Factory Trained Personnel
Our Technicians have been Factory Trained here in the U.S. as well as at Sachtler's Worldwide Headquarters located outside of Munich, Germany.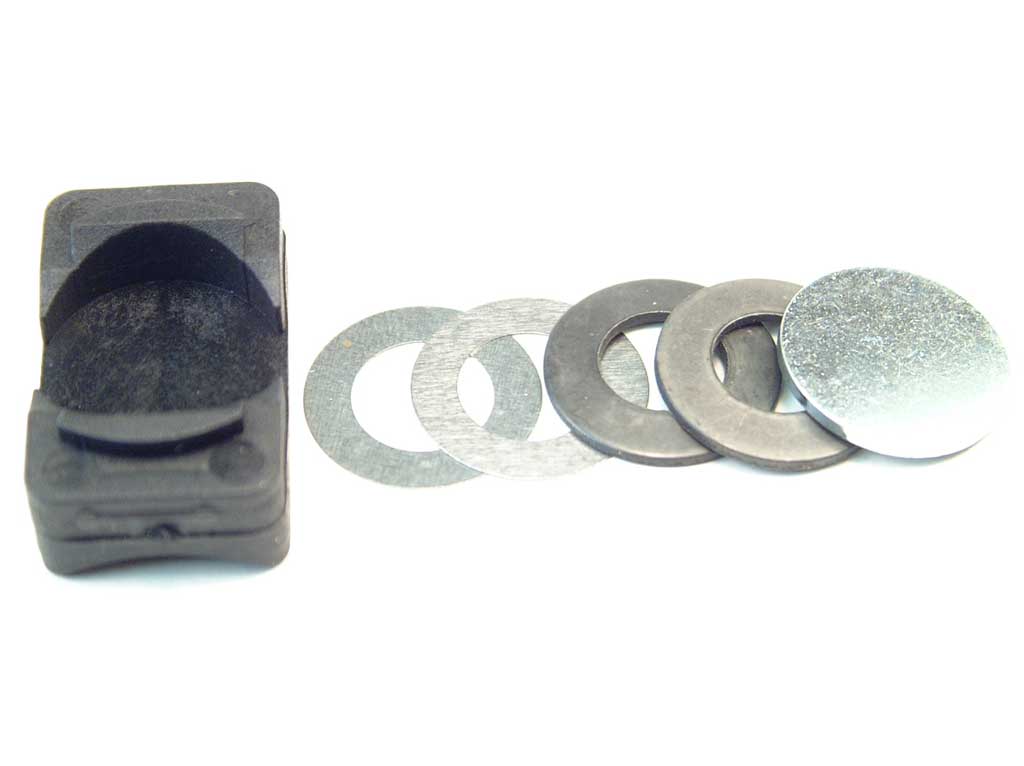 Parts In Stock
With 2,000+ Replacement Parts In Stock, we have the parts on-hand that are needed for routine repairs.
Fast Turnaround
Our normal turnaround time usually ranges from 4-13 business days based on our work load.
We also offer Priority Service with an expedited turnaround time usually of 2-5 business days. Priority Service allows our clients to red flag their equipment and send it to the head of the line, expediting the evaluation/repair process to get their unit back quicker.
Average Repair Costs
Every repair is different, but the average routine repair cost for regular service on a fluid head is usually ~$300–$700 parts & labor (~$225–$375 for sticks).
Some repairs might be less, some might be more, this is just an average. Until we are able to get our hands on the unit, that is the best guess estimate to go with.
For more detailed information on average repair costs and overhaul pricing by specfic models, please see our FAQ's.
For accessory only, minor repairs (spreaders, pan arms, etc.), we usually charge a reduced labor rate plus parts (extensive repairs will be charged at a higher labor rate).
Labor Charges
We charge a flat labor rate for most standard repairs, parts are additional.
Flat Labor Rate‡ for standard repairs: $215/section for Regular Service and $322/section for Priority Service. The Pan, Tilt, Counter Balance and Sticks are each considered a section.
Generally our turnaround time for regular service is approximately 4-13 business days and for priority service approximately 2-5 business days.
‡ Flat labor rates apply to standard repairs for current models only. Additional labor charges may apply for 150mm models, older models and units with extensive, specialized or difficult issues.
Sachtler Fluid Head Models Serviced †
We repair the majority of Sachtler's entire line of DV, ENG & Cine fluid heads†. We repair most old and new 75mm & 100mm Bowl models and select 150mm Bowl models†. Below is a list of the fluid head models we service:
Ace L
Ace M
Caddy
Cine 30HD
Cine 7+7HD
Cine 75HD
Cine DSLR
Dutch Head 35
DV1
DV10SB
DV10SB3+3
DV12
DV12SB
DV12TB
DV15
DV15SB
DV2
DV2II
DV4
DV4II
DV4XD
DV6
DV6SB
DV8
DV8SB
FSB10
FSB10 MK II
FSB10T
FSB14 MK II
FSB2
FSB2T
FSB4
FSB4T
FSB6
FSB6 MK II
FSB6T
FSB8
FSB8 MK II
FSB8T
Panorama
Panorama 3+3
Panorama 7+7 (100mm)
Panorama Plus
Studio 9+9
Video 10
Video 14
Video 14II
Video 15P
Video 15SB
Video 16
Video 18
Video 18 Dutch
Video 18II
Video 18III
Video 18P
Video 18S
Video 18S1
Video 18S2
Video 18SB
Video 20
Video 20II
Video 20III
Video 20P
Video 20S
Video 20S1
Video 20SB
Video 25
Video 25II
Video 25P
There are a few select models we do not repair. For that list, please see this link: Sachtler Models We Do Not Service.
Have a Question?
Checkout our Sachtler FAQ's for a bunch of commonly asked questions with answers pertaining to Sachtler products.
Looking for New Sachtler Gear?
Checkout our Sachtler Sales Area as we are also an Authorized Sachtler Sales Dealer.
Looking for Replacement Parts?
We sell those too! Just enter the part number into the search box on our website for real-time price and availability. If you don't have a part number, you can checkout our Sachtler Exploded Parts Diagrams to locate the number, then use our website to check price, availability and place your order. Orders for replacement parts must be placed through our website.
Pre-Authorized Repair Amounts
Our Minimum Pre-Authorized Amount, excluding shipping, for Tripods & Fluid Heads is $275, however we strongly encourage you to provide a higher amount for most repairs (we recommended an amount in $400-$700 range). If the actual cost of repair ends up being less than this amount, we will charge you the lower amount, but initially you must authorize at least this minimum.
A Pre-Authorized amount is a dollar figure that we are limited to before an estimate is given. Providing us with a pre-authorized amount, gives you and us, a feel for what costs are to be incurred. See our Average Repair Costs section so you can determine a good pre-authorized repair amount.
Example: If you give a pre-authorized amount of $500, and we can fix the unit for $400, we don't need to call you during the course of the repair to get approval and your unit is repaired while it is on the bench the first time around, nice and fast!
Estimates
If we anticipate that the repair will exceed your pre-authorized amount, we will send you a formal estimate via email.
Repair estimates that are declined for Sachtler equipment will be charged an evaluation fee equal to the flat labor rate plus return shipping.
For the majority of repairs, if we determine the unit is not economical for repair with regards to the cost of a new unit, we will offer a trade-in option where we will waive the evaluation fee, if a new unit is purchased through us.
Damaged Poles
/Tubes

on Sticks

/Legs

Cracked or dented poles or moldings can sometimes be replaced on 75mm and 100mm standard duty sticks, otherwise the entire leg assembly will require replacement. There are multiple factors that go into the repair/replace determination, therefore we can not make that decision until we receive, evaluate and many times begin disassembly of the unit. Individual poles and leg moldings on 150mm sticks, 100mm heavy duty sticks and Hotpod models can generally not be repaired and require leg replacement.

There are a few select models we do not repair. For that list, please see this link: Sachtler Models We Do Not Service.
† Sachtler Models We Do Not Service
We do not repair the following Sachtler 150mm Bowl and Flat Base Studio Series Models:
Video 30, 30II
Video 60P, 60P EFP, 60P Studio, 60P FB
Video 75P, 75P EFP, 75P Studio
Video 80, 80II
Video 90, 90FB
Studio 7+7
Studio II
Studio 80II
Flatbase Only Heads (no integrated bowl & bolt)

All Pedestals
OB2000 Tripod Sticks
Cine2000 Tripod Sticks
We do not repair the following Sachtler 75mm Bowl Models:
4599 TT75 Tripod Sticks
4186 Tripod Sticks
Soom Tripod Sticks